Q:  Mr. Pedometer, we will be on a very long flight to our summer vacation destination.  How can stay healthy while flying?
A: I was surprised at the answer provided by Consumer Reports On Health: "Most illnesses contracted on a plane are picked up from surfaces,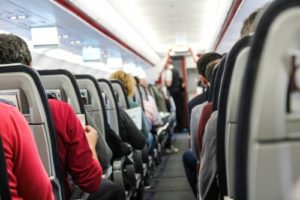 not through the air," according to Mark Gendreau, M.D., a researcher who studies infection risk during air travel.  He offers the following tips:
"USE HAND SANITIZER

(one with at least 60% alcohol) before and after touching seatback trays and seatbelt buckles, where the bugs are plentiful."

"IF YOU SIT NEAR A PASSENGER WHO'S COUGHING OR SNEEZING,

adjust the air vent above your seat so that the air flows away from your face."

"AND STAY HYDRATED:

Dry cabin air can dehydrate protective membranes in your nose and mouth, leaving you more susceptible to infection."
I hope those suggestions can help you arrive at your distant destination feeling healthy and ready to enjoy your vacation…once you adjust to the time change
EAT RIGHT,
MOVE MORE,
AND SLEEP WELL,
FOR A HEALTHY, LONGER LIFE!